Natural Gas Fair Value: 14 Days
Natural gas price predictions are given here, based on weather forecasts, natural gas in storage, and other factors.
Let's check at the latest weather reports and forecasts. Bear in mind at all times that live analysts and automatic HFT systems track the weather and hit the matket within seconds of new weather data hitting the wires. It is already priced in after a minute, and can often be seen as price movement after routine weather service updates. A good way to measure the influence of forecasts is to measure the split between spot and futures prices. Prices will move moderately on forecast extreme temperatures. Expect prices to move with conviction when extreme temperatures actually occur. One's trading yield can be increased greatly by quantifying the effect of coming weather and taking positions - long or short - before the markets move on actual weather. Top market participants spend millions of dollars studying the effects of weather and other factors on the price of natural gas.
Checking forecasts for KABQ / KACY / KALB / KASE / KATL / KAUS / KAVP / KBGM / KBHM / KBNA / KBOS / KBTV / KBUF / KBWI / KCBE / KCLE / KCLT / KCMH / KCOS / KCVG / KDAY / KDCA / KDEN / KDFW / KDRO / KDSM / KDTW / KERI / KEWR / KFSD / KFWA / KGRB / KGTF / KHLN / KIAH / KICT / KIND / KJAX / KLAS / KLAX / KLEX / KLGA / KLNK / KMAD / KMCI / KMCO / KMDW / KMEM / KMGM / KMHT / KMIA / KMKE / KMOT / KMSP / KMSY / KOAK / KOKC / KOMA / KORF / KPDX / KPHL / KPHX / KPIT / KPWM / KRAL / KRDU / KRFD / KRNO / KROC / KSAN / KSAT / KSDF / KSEA / KSFO / KSHV / KSJC / KSLC / KSMF / KSTL / KTOL / KTPA / KTUL / KTUS /
Natural Gas Data Checked: 2014/07/30 18:51 UTC

NYMEX Natural Gas (ngq14.nym): 3.794 USD per BCF
Henry Hub Bid Week Price: 3.84 USD per BCF
Strictly looking at supply and demand (without market speculation), the following prices would result...
| | | | | | |
| --- | --- | --- | --- | --- | --- |
| Days Ahead | Price (USD) | Storage Level (BCF) | 5Yr Mean Storage Level (BCF) | Quantity Change (BCF) | Mean Daily Change (BCF) |
Factoring in market action, future natural gas prices look a bit different!
Estimated natural gas at end of season: 3,603 BCF in storage at a price of $ 3.752 per BCF.
Subsequent end of season estimates: 1,528 BCF in storage at a price of $ 4.081 per BCF.
Natural Gas Price Chart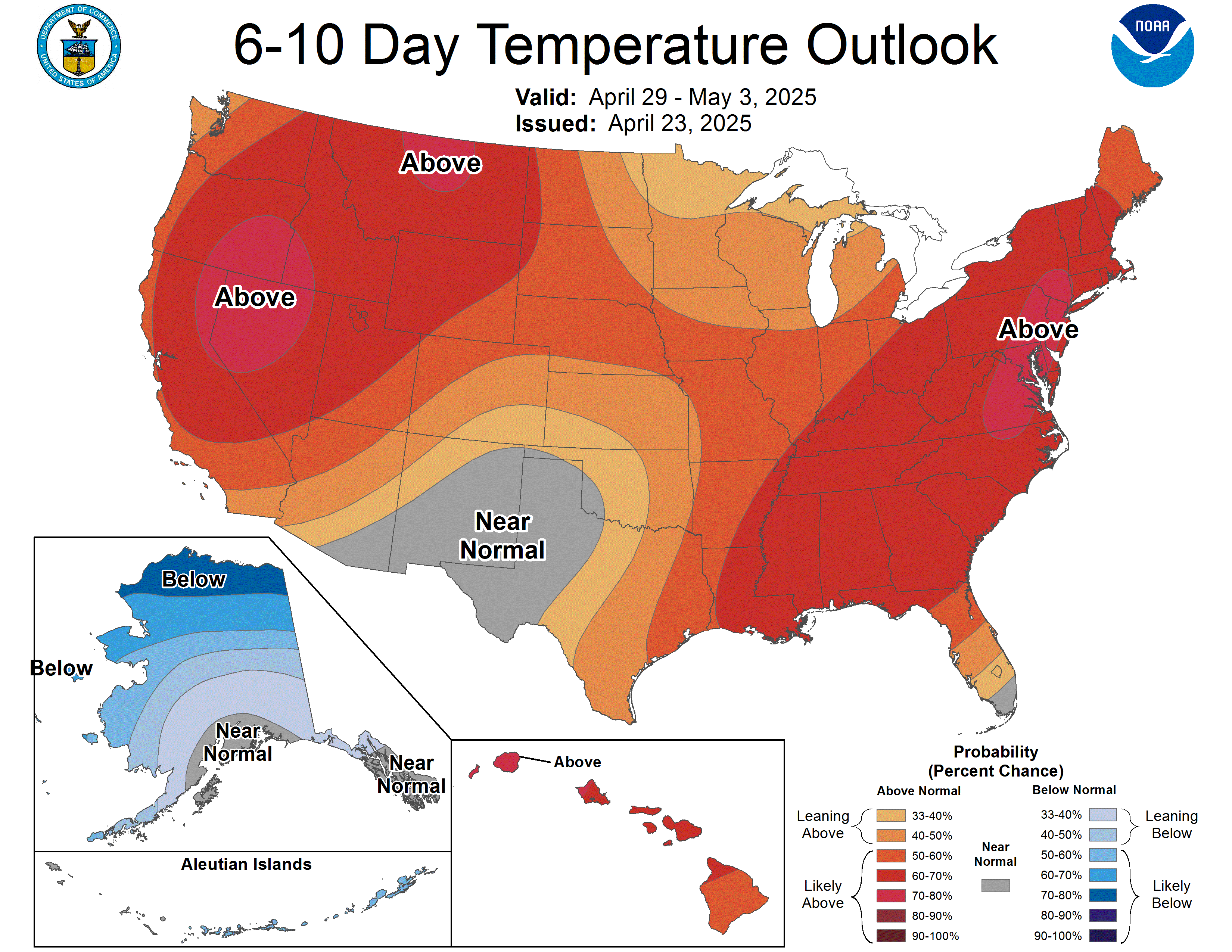 NOAA 6 to 10 Day Temperature Anomaly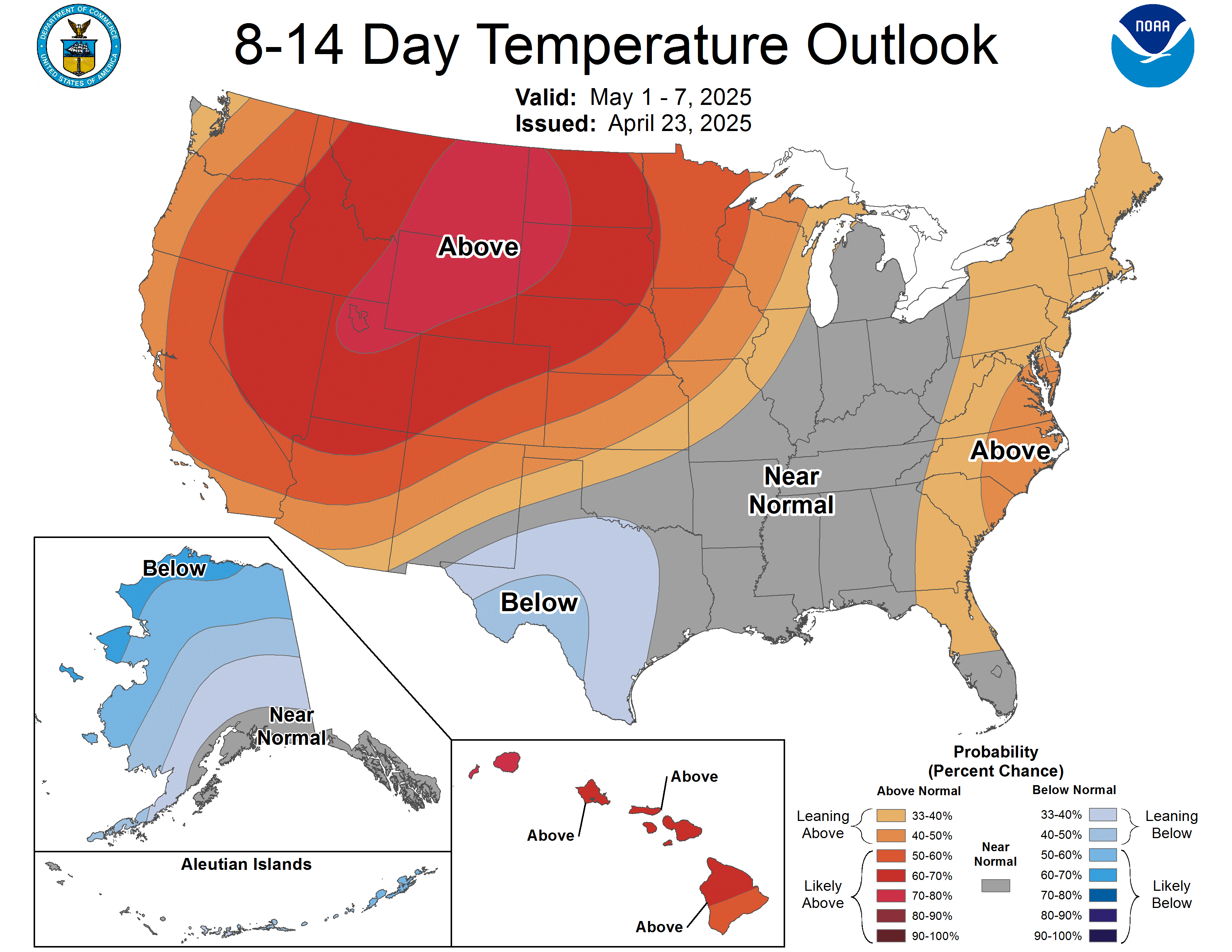 NOAA 8 to 14 Day Temperature Anomaly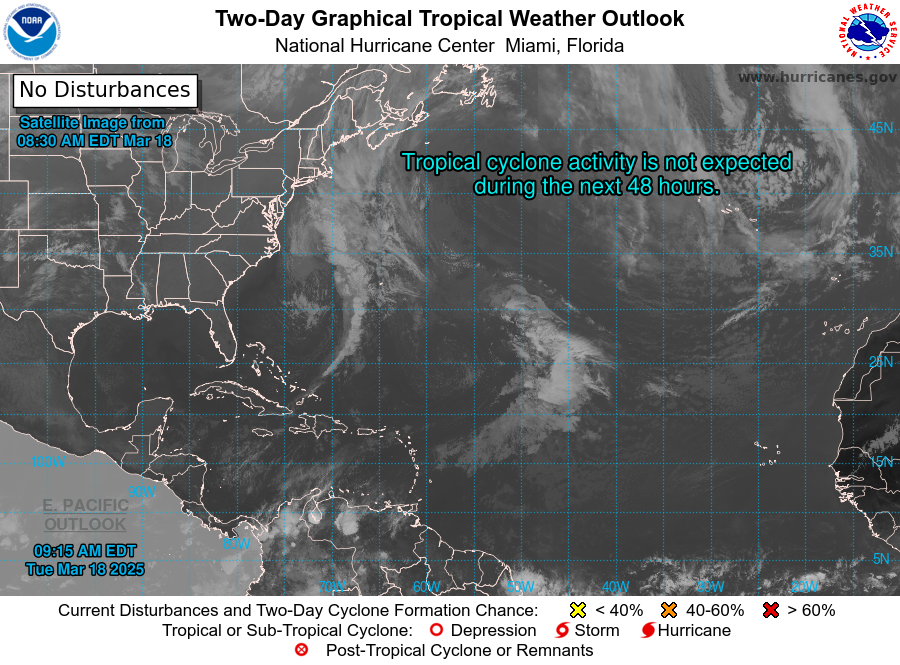 Atlantic Ocean tropical storms and hurricanes
Assume that the effect on natural gas prices is similar for daily spot prices and for futures. Henry hub gets expensive during summer heat waves and frigid winter periods. Likewise, spot NG is pretty cheap during mild shoulder season weather.
Natural gas markets tend to be more bullish when storage is near the five year minimum and bearish when near the five year maximums. Markets also look ahead to "end of season" estimates of natural gas in storage. After extended periods of extreme temperatures, expect pricing to reflect the more extreme quantities of natural gas then.
Extreme cold in producing regions causes price surges due to well freeze-offs. Production drops, and the continued demand results in heavy consuption of stored natural gas. Likewise, periods of mild weather in natural gas producing regions are bearish over time. Producers compete by selling as much natural gas as possible, so storage surges if there are no catalysts to spur consumptiuon.
When is the ideal time to go long natural gas? There are two particularly good times to hunt for entry points. First, look for the end of injection season. There is a period of several days when the heating and cooling degree days are minimal in October. When heating degree days surpass cooling degree days, consider opening long positions. The window doesn't really close until storage withdrawals begin, usually in early November. Be long before sub freezing weather reaches Philadelphia, Cleveland, Indianapolis, and similar latitudes in the East. The other very good time to go long is after the springtime shoulder season. Stand by until cooling degree days surpass heating degree days. Also, look for injections to level off or decrease from the peaks reached in late May or early June. Be long before the first weather over 100 degrees in Dallas, Houston, and cities of inland southern California. Prepare to exit long positions as peak seasonal weather moderates. Also, beware of early speculators who will jump into the market and reduce your yield as coming weather is "priced in."
When is the ideal time to short natural gas? Again, two good entry points. As winter weather rages, look for periods of heavy withdrawals during February cold waves, blizzards, and so forth. When the Northeast freezes, natural gas prices spike high. Another ideal time is during the summer heat waves of July and August. Beware, however, that speculators get into the market before the ideal periods and can skew your yield, as the changes get "priced in." For either entry, prepare to close out positions by the time shoulder season ends. Shoulder season's end is marked by the short period of equal cooling degree and heating degree days. Be out of short positions before the first substantial northeast cold in autumn or late springtime heat wave in the southern and western states.
Some natural gas traders profit from a strategy of mostly standing aside, with positions taken only when the market moves to extremes. The high winter prices of February 2014 presented a fantastic opportunity for shorting the market. Likewise, there are sometimes selloffs which become absurdly intense, and offer very profitable entry points for longs. Such traders don't make many trades, but become wealthy from the few extreme market swings in a year.
Always carry out proper research before buying or selling a commodity or stock. This online valuation calculator is only a tool for finding potentially profitable trades, and should be augmented with other information and sound reasoning.